Fire outbreak hit Kejetia Dubai market as store owners rescued on rope
The Kejetia market has been ravaged by HUGE fire outbreak on Wednesday afternoon as officials waits for stats on death and casualties. 
A severe fire outbreak hit the Kejetia market in Central Kumasi following explosive activity from part of the market, according to local reports. An undealt with activity in the explosive zone of the market colliding with a Gas is believed to have sparked the fire extending to other parts of the market, according to the reports.
As it stands now, deaths and injuries remain unknown as city officials probe to ascertain figures. But local reports give a confidence for death free situation after people inside the market were able to run for their lives. However, thousands of shops were burnt as traders cry bitterly.
Since the fire outbreak, the Ghana Fire Service was presented with several challenges in attempt to salvage the situation as there were severe blockages, shortage of fire fighting equipment and lack of water were against efforts leading to quick and continual expansion of the fire.
Blockages at entrance of the market and inside is one problem city officials are weighing to solve. This outbreak is the first to hit the market since its opening in 2016 after Ghana's former President John Dramani Mahama commissioned the business arena in 2016- reportedly the largest market in West Africa.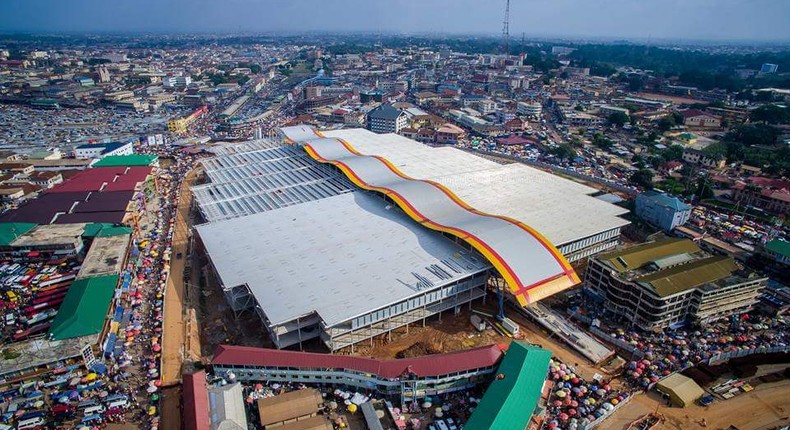 Since the completion of the market, the Minister of Local Government and Rural Development promised that market women and men will be left free of the situation where they lost properties, money and belongings through fire outbreak.
But it has been less than a decade where his promise has been defeated under the ultra-modern facility that should resist such occurrences after unsuspected fire burnt the Kejetia market on Wednesday 15th March 2023.
To save the fire from further spreading, pure waters were used and failed to stop the high outbreak.  A rope was placed for people and store owners to be rescued. But according to eye witness report, a women with his baby at her back in that attempt landed forcefully suggesting she might have sustained an injury.
Video footages show a huge smoke covering the surrounding of the market with flames visible from several kilometers away making saving lives difficult. In another eye witness report, the fire was set from the vehicle tyres side.
Many people inside the market were seen rushing from the top of the market as they attempt to rescue themselves with trained rescue team trapped under poor working conditions.
With the whole market project in phases, the second phase at the location of the former famous Central Market is under construction and is the fire outbreak untouched.
---
…As the world is digitally evolving, information grounded in science, truth and experience is very essential for healthy life and human sustainability. By that we are very committed to bringing you important touched contents that will best suit your political, health, entertainment, showbiz, business, lifestyle, culture, relationship, and religion needs.
We want you to understand that once you have subscribed to this network, you will be receiving other news from across the world aside Sports for your sustainability!
Every essential Ghana, Africa & International Sports/News shall be send to you and your family to be informed of and updated about the world!