Linesman Constantine Hatzidakis accused of striking Andy Robertson during Liverpool-Arsenal 2-2 draw
Arsenal were unable to hold unto a 2-0 lead against Liverpool in a bigger Premier League clash on Sunday as the hosts fought back to a 2-2 draw at Anfield. 
Mikel Arteta's side took 2-1 lead in the first half after Gabriel Martinelli and Gabriel Jesus had given Arsenal a 2-0 advantage before Egyptian International Mohamed Salah scored in between the two Gunners goals.
Liverpool finally secured a vital point in stoppage time after Roberto Firmino struck 3 minutes to full time. The draw sees Arsenal lead the Premier League table with 73 points 6 more above Man City with 8 games to end the season.
City have a game in hand and a win will put pressure on Arsenal in the race who are fighting to end the Premier League drought since 2003/04 invincible season.
Liverpool's fight-back against Arteta's men is been talked in the media but Andy Robertson's after-match claims are digging much into people's concern.
One of the assistant referees in Liverpool's Premier League match against Arsenal has been accused of elbowing Andy Robertson during the half-time interval.
Constantine Hatzidakis was approached by Robertson as the half-time whistle blew, with the Liverpool defender insisting the assistant referee had struck him in the throat seconds later.
Robertson was given a yellow card by referee Paul Tierney for his role in the involvement, while Liverpool captain Jordan Henderson approached the officials to discuss the incident.
Sky Sports' pitchside reporter Geoff Shreeves said: "Andy Robertson was absolutely apoplectic, stunned even.
"He said 'the linesman has just elbowed me in the throat' – Jordan Henderson was well aware of it and led the remonstrations with referee Paul Tierney and after that they got taken away. Extraordinary scenes."
The Professional Game Match Officials Limited (PGMOL) body, which governs referees in English football, has said it is investigating the incident.
A statement read: "PGMOL is aware of an incident involving assistant referee Constantine Hatzidakis and Liverpool defender Andrew Robertson at half-time during the Liverpool vs Arsenal fixture at Anfield. We will review the matter in full once the game has concluded."
Sky Sports pundit Gary Neville said if Hatzidakis is found guilty of striking the Liverpool defender, the official will end up in hot water.
"I've never seen an official raise an elbow to a player," he said while on co-commentary duty at Anfield. "I think he'll be in a lot of trouble after this game ends."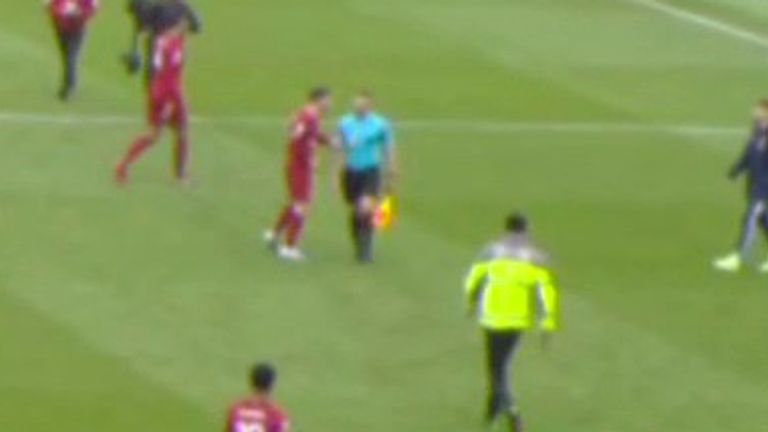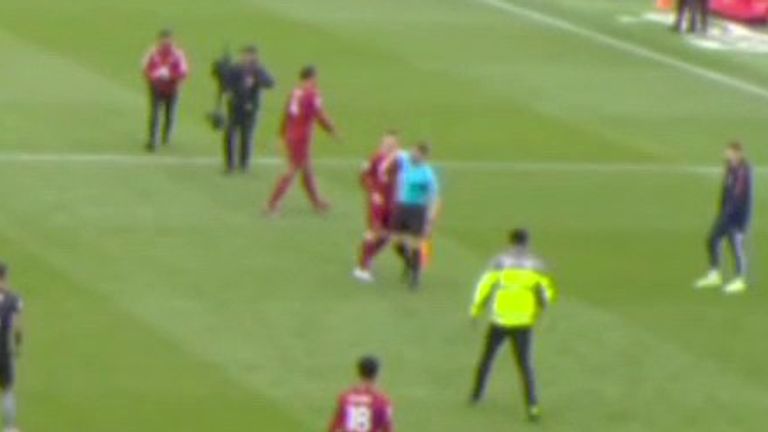 Watching the incident at half-time, Roy Keane questioned whether Robertson, whose side were trailing 2-1 to Arsenal at the time, actually grabbed the assistant referee first before the alleged elbow happened.
"I've not seen anything like it really. But Robertson… does he grab the linesman first?" Keane said in the Sky Sports studio.
"I'm not sure. But Robertson's complaining. He should be more worried about his defending.
"I've watched Robertson a number of times and he is a big baby. Just get on with the game and concentrate on your defending. He does grab the linesman first."
Meanwhile, Clinton Morrison added: "Robertson obviously grabs him, but he [the assistant referee] cannot react like that and throw an elbow.
"We won't hear the end of that. In all my years, I have never seen an assistant referee react like that.
"Players are quickly called out when they do stuff wrong, he has to apologies as that was out of order."